Designs can often include symmetry and Studio can help you with this. To make a mirror copy: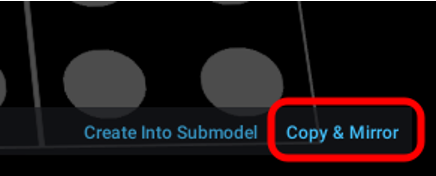 Select parts
Click on Copy & Mirror in the status line.


Parts appear directly to the right of the selected parts, mirroring them in a left-right direction. The original parts are on the left side of the mirror, the new parts are on the right side.
Studio knows how to replace non-symmetrical parts with their counterparts.
For instance, right wedges will be replaced with left wedges.

The new parts are automatically placed in the design and already selected if you want to move them.
The Clone tool behaves like a simple selection tool if nothing is selected. For more complex selections, select the parts before activating Clone tool.
You can also hold Alt and make a selection.