The Hide tool lets you hide parts to get a better look at areas of your design that may otherwise be hard to see. Click the Hide icon in the toolbar or use the shortcut L. When activated, the Hide icon is blue and will appear next to the mouse pointer.

You can go back to the default select mode by pressing Esc or V on your keyboard.
Using the Hide tool
Click on a part and it will be hidden or make a selection using the cursor and all the parts that are inside or cross it will be hidden. When parts are hidden, a box appears in the top right corner of the Viewport to indicate the number of hidden parts.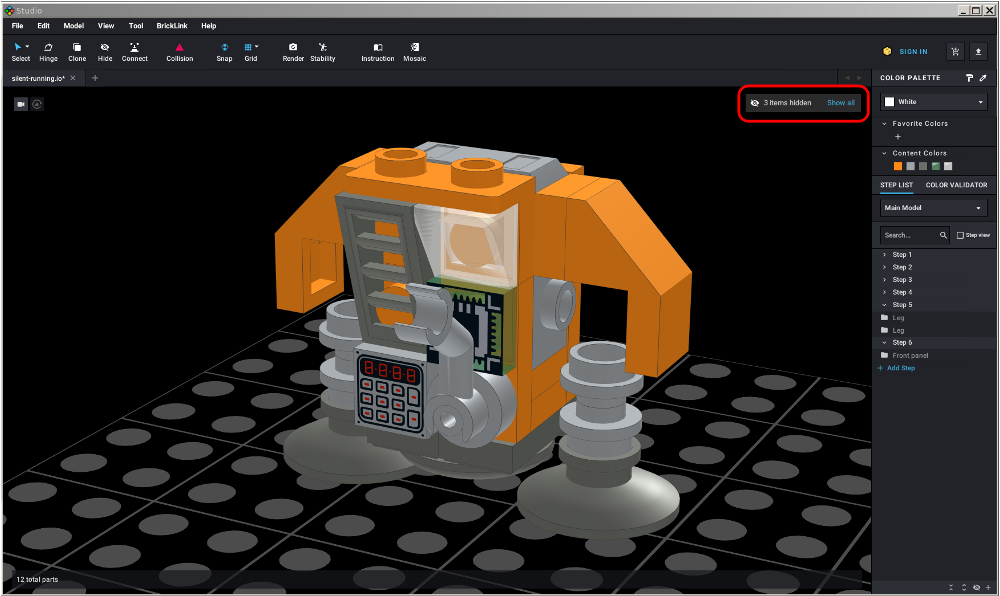 Unhiding parts
To unhide parts, click the Show All button in the top right corner of the Viewport or use the Ctrl+Shift+ L keyboard shortcut.
The hidden item information box only shows and un-hides parts hidden in the submodel currently being Viewed or in its submodels
The Hide tool works like a simple selection tool. For complex selections, select the parts before activating the Hide tool
You can hide a selection using the Ctrl L The selection will be hidden and the mouse pointer will stay in the current mode (one of the selection modes, or another tool, like the hinge tool)
You can hide parts or entire steps within the Step list
The counter gives the total number of hidden items.
A submodel counts as one part.
Hidden parts in a submodel count only once while they're hidden in all the copies of the submodel.