Accessing the export feature
Click on the green Export button in the top right

The export dialog will appear.
Export options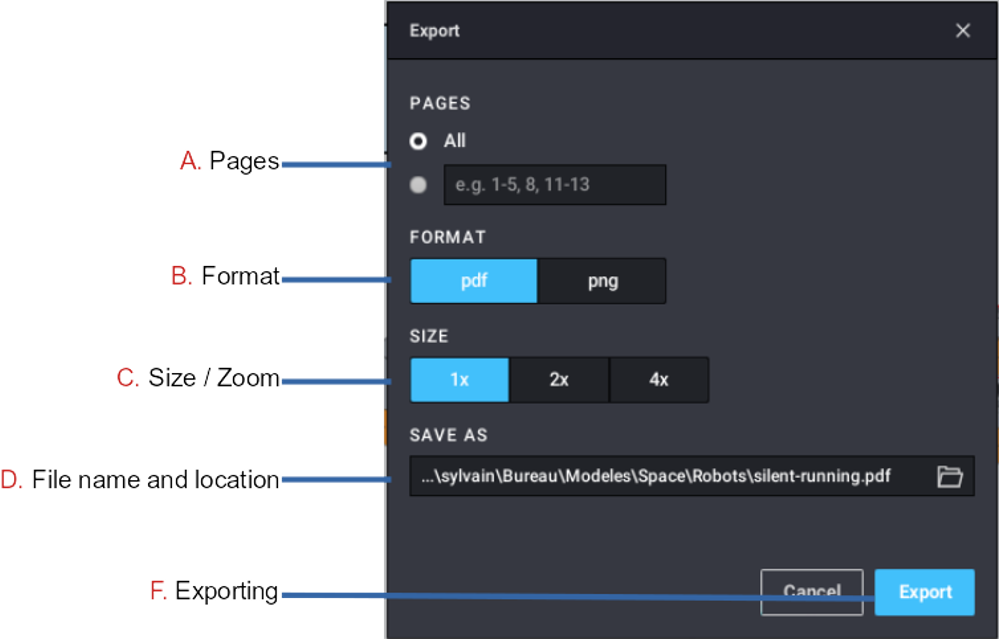 A. Pages
By default, all pages are exported but you can choose to export only a few pages, or ranges of pages:
Click on the radio button to the left of the field,
Enter the page number to export that page only,
or to export a page range, enter two page numbers separated by a hyphen , like 5-10 .
or, to export page numbers and ranges, enter pages separated by commas, like 1,3-5,10
B. Format
Studio supports two formats for instructions:
PDF: one ready-to-print file,
PNG: one image for each exported page.
C. Size / Zoom
You can get finer / bigger images if you choose a zoom factor. The higher the zoom, the longer it takes to export and the resulting file(s) will be bigger.
D. File name and location
To change the name and location of the exported file(s) edit the text field or click on the folder icon on the right to get a file dialog to navigate your computer.
When exporting to PNG, the name is the name of the folder where the images will be saved. There will be one PNG file per page, named 1.png, 2.png, etc.
E. Exporting
Click on the Export button.
A progression window will appear to display the status.

When the exportation is finished, a dialog will propose you open and view the results.