The Color Palette has an area for your favorite colors.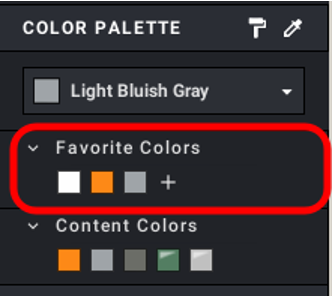 This palette of favorite colors is automatically saved and remains between sessions.
Colors are sorted in the order in which they have been added.
Adding a favorite color
To add a color to your favorite list:
Select a color in the dropdown by doing one of the following:

choose a color from the Color Menu
click on a color in the Contents Colors swatch
select a part in the color you want in the Viewport or in the Step List
use the Color Picker to select a color in the build



Click on the + icon in Favorite Colors
The current color is then added to the swatch.
Removing a favorited color
To remove a color from the favorite color swatch, right-click it and then click Remove.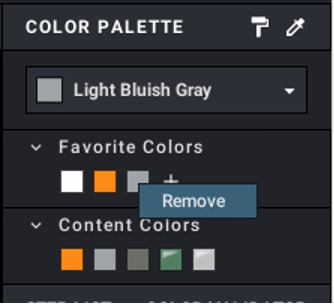 You can toggle the visibility of the Favorite and Content colors swatches by clicking on the arrow to the left of their names