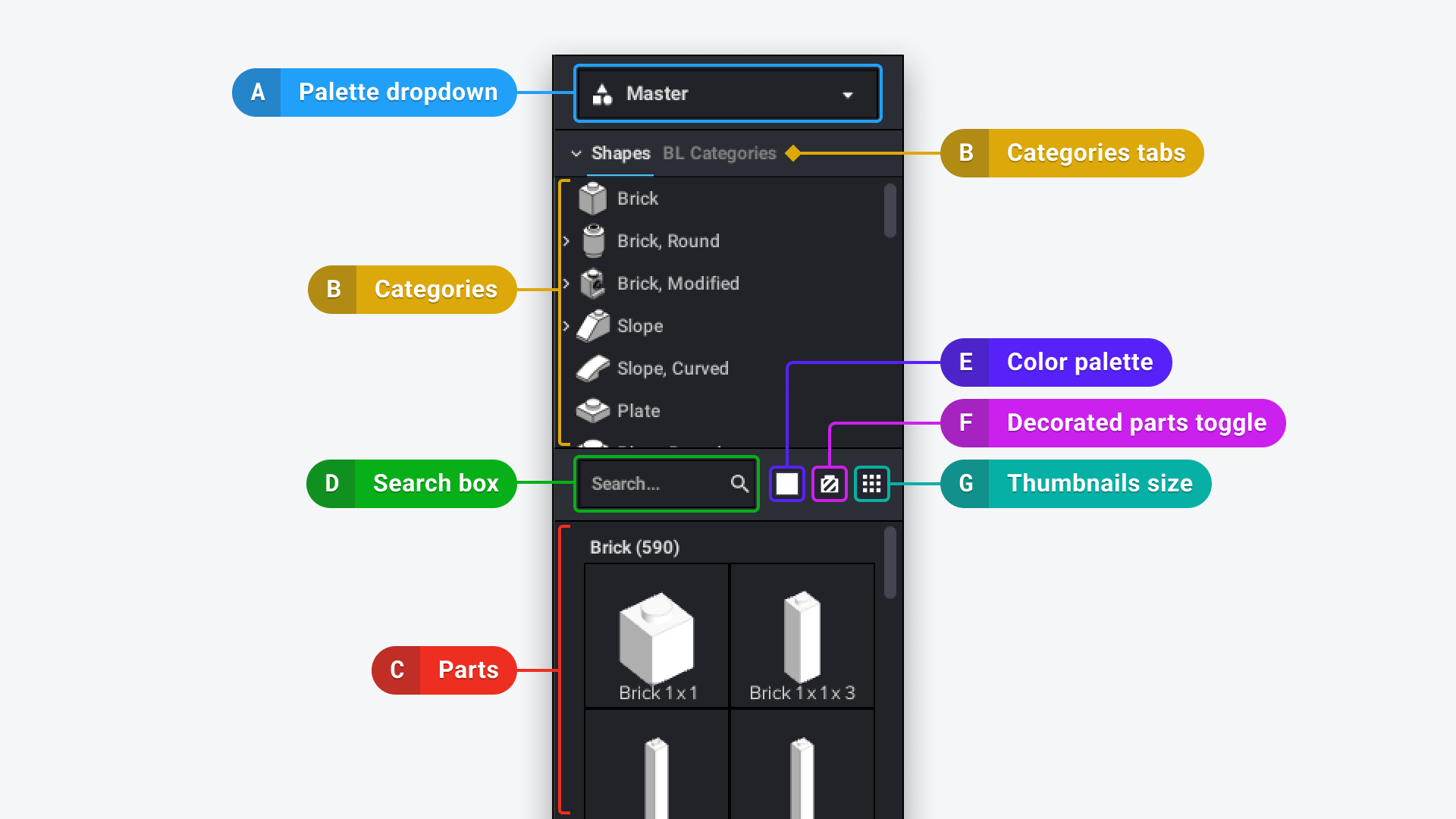 A. Palette Dropdown: shows the current palette of parts and lets you choose and manage palettes.
B. Category types: parts are organized by category. There are two or three tabs that show the same parts but with a different organization:

Shapes
BL (BrickLink) Categories
Colors
C. Categories: parts categories based on a selected type. You can change the organization by hiding parts or moving categories.
D. Parts: shows parts within a selected category. This is where you can pick them to add to the Viewport.
E. Search input field: enter keywords to filter and find parts.
F. Color Palette: you can choose a color for parts in a palette. The selected color will be the initial color for new parts. This is one of the multiple ways to color parts.
Filtering parts by color:

a

t the bottom of the color palette, there's a checkbox to Hide unavailable parts in the selected color. This will hide the parts that aren't available for sale in the chosen color.
G. Decorated Parts Toggle: this shows or hides printed or stickered parts. When it's solid, decorated parts are hidden. When it's striped, decorated parts are displayed
H. Brick Thumbnail Size: this button allows to choose from three different thumbnail sizes for a palette
Hit Tab on the keyboard to maximize the palette area. Once you select a part, the palette area will be restored to its previous size. Or hit Tab again to reduce it without selecting a part
There are different kinds of palettes:

Standard palette: like the Main palette, all parts exist in a selected color of the building palette.
Custom palette: each part can have its own color. Different colored parts of the same mold are considered to be different parts. The same mold can appear multiple times in different colors.
Counted custom palette: Like Official Set Palettes, the parts each have a defined color and are counted with the quantity available shown on the part's thumbnail. The quantity decreases each time you use the part in your design and the parts disappear from the palette once the quantity is depleted.
Drawer palette:

The part thumbnails are 'drawers' that contain the available colors for the part. An example of a Drawer palette would be the one used for the AFOL Designer Program in 2018. These are created outside of Studio using text.