Instruction Maker lets you create building instructions that show how to assemble a design in digital or printable formats.
Instruction Maker has two stages:
Step Editor is where you can view, create, and organize building steps.
Page Design is where you can make and view print-ready instructions.
Use the toolbar buttons to switch between Step Editor and Page Design.

Accessing Instruction Maker
Instruction Maker is accessible from the toolbar.

or
via the file menu Tool | Instruction Maker

Going back to building mode
Click the Exit button in the toolbar

or
Use the menu File | Exit Instruction Maker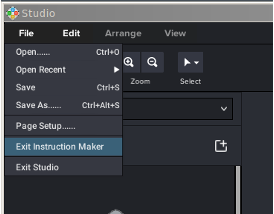 Steps can also be created and edited in Building mode, within the step list.
The menu and toolbar are shared between Step Editor and Page Design, that's why some actions are deactivated depending on which tab you're on.