Supported file formats
.ldr, .mpd, .lxfml(.lxf), POV-Ray, .dae, .csv, .tsv, .xml
Exporting your designs
Save or export your design in different formats, you can choose them from the File | Export As menu.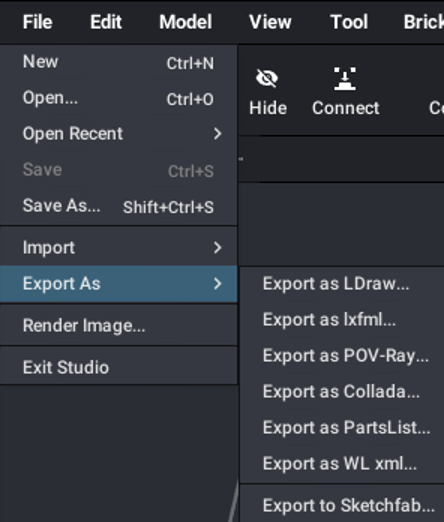 More about file format
LDraw
The open standard for LEGO CAD programs. .ldr or .mpd files.
Studio writes Multi-Part Document (MPD) files (files with submodels) if your design contains submodels, or modified flexible or posable parts.
The extension (.ldr or .mpd) doesn't matter, as, according to the standard, files with the .ldr extension can use the MPD structure.
LXFML
LEGO Digital Designer (LDD)'s uncompressed file format.
The .lxf file format is a compressed version. You can transform a .lxfml into a .lxf by renaming the lxfml into image100.lxfml and ZIPping it.
POV-Ray
The format for the Persistence of Vision Raytracer. That's the same file as the temporary one used when rendering the design with POV-Ray. You can open it in POV-Ray to render it with more options than in Studio.
Collada
A common interchange file format for 3D applications. The standard extension is .dae.
Parts List
A simple text format, usable in spreadsheet programs. It contains only the parts list with BrickLink IDs, names, and colors.
You can choose between a Comma Separated Value file (.csv) or a Tab Separated Value file (.tsv) in the file saving dialog (selector at the bottom).
BrickLink Wanted List XML
The XML format is used by BrickLink to save and upload wanted lists.
See Buying to learn other ways to upload wanted lists and buy parts on BrickLink.
See Import a wanted list to learn how to create a parts palette from a wanted list.
Sketchfab
Allows connecting to your Sketchfab account to upload your design as a 3D model.